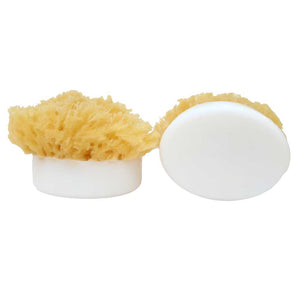 Sponge Shea Butter Soap - Fragrance FREE
Handmade Sponge Shea Butter Soap - Fragrance FREE
Weight each soap - 4 oz.
Measure -

 

3" x 2.25"

. Color - White
Ingredients: 

Sea Sponge, Shea Butter, Coconut Oil, Palm Oil, Safflower Oil, Glycerin, Purified Water, Sodium Hydroxide, Sorbitol, Sorbitan Oleate, Oat Protein, Titanium Dioxide

The soaps are handcrafted in small batches for best quality. 

Color may be slightly different

Each Sponge Soap is individually packaged and labeled.
Our natural sea sponge will sooth and exfoliate your skin, and our shea butter will produce a rich lather that will nourish your skin all over. We care about your skin, and we care what you use on it. Our soap is handmade, and we use ingredients that pamper your skin. We want you to feel good in the skin that your in, and our shea butter soap will help you get there. Shea butter is very gentle on your skin and will not dry it. After just a few days of using soap with Shea Butter in it you will notice a dramatic difference in the way your skin feels. Using natural handmade soap with Shea butter will calm your skin and give you a vibrant tone. 
Sea sponge are highly absorbent, excellent exfoliate, create a luxurious latter, are softly textured and suitable for the most sensitive of skin. Sea sponges are the most natural and healthy way to cleanse and care for the skin. 
All of the sea sponges I use are purchasing directly from Tarpon Springs, Florida - beautiful Greek village, also is known as the "Sponge capital of the world."
Each sea sponge is different, so each soap bar will be unique.
Great for traveling.
Please keep the soap dry between uses.
Thank you for visiting our shop. Happy Shopping!