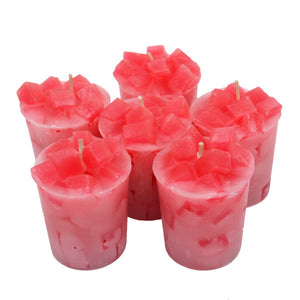 Pink Sugar Votive Candles-Set of 6
Handmade unique chunky votive candles - Color: Pink & White - Set of 6
Fragrance: 

PINK SUGAR - A playfully soft women's fragrance with the sweetness of sugar, cotton candy, vanilla, musk and light floral. For the young and young at heart! An Aquiline perfume type.

Votive candles are made by premium grade paraffin wax, cotton wicks, best quality fragrance oil and candle dye. 
Weight each candle - 2 oz.
Measure - 2" - tall, 1.75 - wide, tapering slightly to the bottom.
Each candle is hand poured and unique. For the best results you need to burn them in a proper size votive holder/container. Burn time - approximately 15 hours.
FAILURE TO FOLLOW INSTRUCTIONS COULD RESULT HAZARD OR PERSONAL INJURY!
Trim wick to 1/4 inch before using. Burn candle on heat resistant surface or in suitable holder.
Do not burn more than 4 hours at a time.
Never leave burning candle unattended or within reach of children.
Keep out of drafts. Do not move while lit or until wax hardens. Use caution when extinguishing. Do not use water to extinguish.
Keep free of foreign objects. 
For indoor use only.
Magical Candles is NOT RESPONSIBLE for any damage, injuries or accidents! 
Thank you for visiting our shop. Happy Shopping!